Vul je wardrobe aan met exclusieve pieces uit de Ellesse x Anne-Marie collectie. Het retro merk Ellesse is all about the tape trend net zoals Anne Marie's stijl – een perfecte match dus!
Deze collectie bezorgt je gegarandeerd een uitzonderlijke look en is alleen verkrijgbaar bij JD Sports! Lees nu meer over de samenwerking en check out de highlights.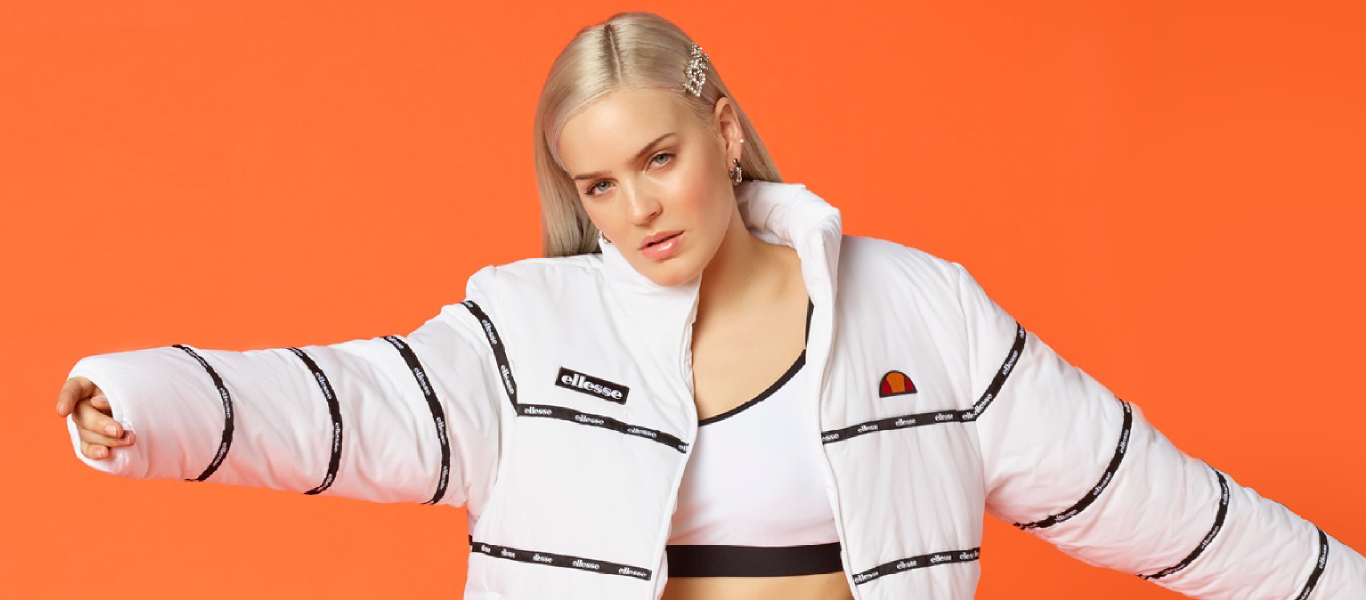 COLLAB ANNE MARIE X ELLESSE
De samenwerking tussen Ellesse en Anne-Marie is al een tijd aan de gang en een match made in heaven. Gedurfd en authentiek – dit zijn twee kenmerken van de Britse singer/songwriter die volledig aansluiten op het imago en doel van de Heritage brand. Ellesse geeft de toekomst vorm door het verleden te waarderen. Zo wordt hun archief optimaal hergebruikt voor het maken van nieuwe sport inspired designs.
Rising star Anne-Marie scoorde begin 2016 in haar thuisland een solo-hit met 'Do It Right', dat vervolgens overtroffen werd met 'Alarm'. Later wist ze Nederland te veroveren en naast een Top 40-debuut ook een nummer 1-hit te scoren met 'Rockabye' ft. Clean Bandit en Sean Paul. Naast het zingen heeft Anne-Marie een verborgen talent: ze werd namelijk drievoudig wereldkampioen in Shotokan Karate!
Anne-Marie zegt zelf het volgende over haar samenwerking met Ellesse:
"I'm really excited to be working with ellesse heritage. I've always loved fashion, and ellesse was a big part of my childhood, so when they asked for me to be involved with their new collection, I didn't hesitate to say yes!!  I'm a huge fan of vintage clothing, too, and Ellesse gave me the chance to wear some staple, archive pieces from the '80's – it was heaven.
EEN EXCLUSIEVE COLLECTIE WAAR JE U TEGEN ZEGT
De kleuren marineblauw, rood en wit staan centraal in de collectie. Ga in stijl naar de gym met een on-trend bomberjas die afgewerkt is met cute roses op de schouders. Deze jas komt in een cropped fit en zorgt voor een stoere streetstyle look. De Ellesse Anne-Marie Cropped Padded Jacket scoor je hier.
Dat je tegenwoordig niet meer om de crop tops heen kan is een feit. Jouw gymoutfit maak je helemaal compleet met het Ellesse Anne-Marie Roses Long Sleeve T-Shirt. Deze crop top met lange mouwen is uitgevoerd in een marineblauwe colourway en is ook afgewerkt met rozen. Voor een retro finish match je deze top met de opvallende Ellesse Anne-Marie All Over Print Stripe Track Pants.